Last week, exactly one year after he released his debut studio album, the 20-year-old artist Jaden Smith shared his latest project The Sunset Tapes: A Cool Tape Story, on the one-year anniversary of his debut album SYRE. The new project is an 11-song tape that featured no guest appearances. Jaden announced the release in early October, when he rolled out the Dragon Ball Z-inspired single "GOKU."
Thank You @Spotify I Love You. The Sunset Tapes: A Cool Tape Story. pic.twitter.com/naLa83YkUG

— Jaden Smith (@officialjaden) 23 de noviembre de 2018
His new project The Sunset Tapes: A Cool Tape Story is a measure of how much he has mature. It's much more in control and capable, reveling in a mellow atmosphere for love songs. He realized that being relaxed can be just as captivating. Instead of a scorching improvement that the album initially indicates that it will be, a hard-on for grating autotune and a surprising lack of bars indicate that The Sunset Tapes: A Cool Tape Story is a welcoming step up. But, ultimately a lukewarm, missed opportunity.
The hip-hop newcomer has treated fans to his new "Plastic" music video. Fresh off his newly released The Sunset Tapes: A Cool Tape Story, Smith dropped his post-Thanksgiving visual.
I Evolved My Sound To Involve A Wider Group Of People To Our Conversation. I Had To Bridge The Gap Between SYRE & ERYS Because The Chasm Is Too Vast.

— Jaden Smith (@officialjaden) 23 de noviembre de 2018
The project—a continuation of Jaden's Cool Tape series—spans 11 tracks, including titles like "A Calabasas Freestyle," "Distant," "SYRE in Abbey Road Lyrics," and "Plastic."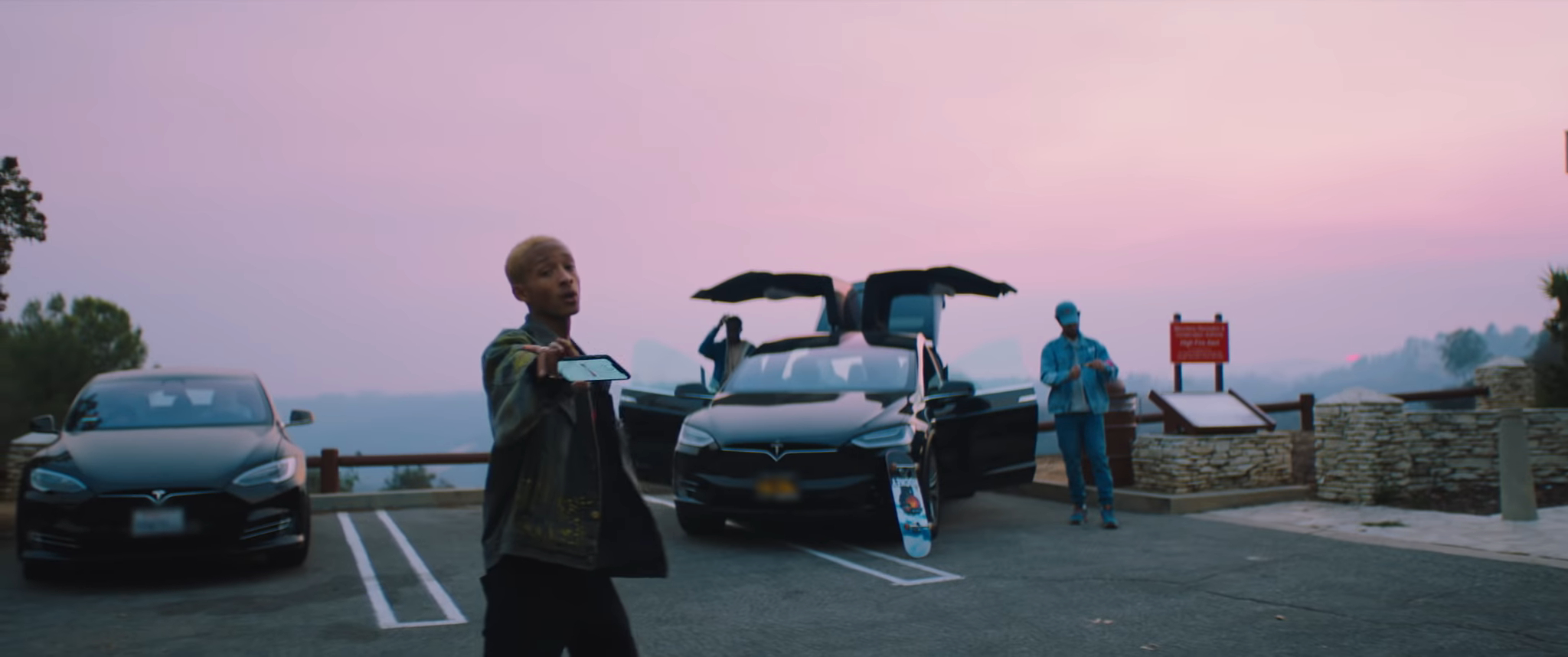 Jaden Smith shares the video for the song "Plastic" on Friday, a standout record off his latest project The Sunset Tapes: A Cool Tape Story. "This Is Not A Part Of The SYRE Timeline" read the text at the intro, but the video is similar to a lot of visuals Smith has released for his debut album SYRE with Jaden performing the songs in front of a bright backdrop with his car parked. The focus is him wilding out with a setting sun and fancy car as backdrops. The clip ends with the text "ERYS is coming."
https://t.co/Ssx1JBJUIs pic.twitter.com/R2jTESXsGJ

— Jaden Smith (@officialjaden) 18 de noviembre de 2018
A few days ago, in the heat of a lively performance at Camp Flog Gnaw last week, Jaden Smith grabbed the microphone to declare that Tyler the Creator was his "fucking boyfriend." The announcement itself wasn't reason for surprise.
He added that The Creator wanted to keep the relationship secret, however, he confessed it to all his audience and it was the news of the day. "And I want to tell you something, Tyler does not want to say anything; but he's my boyfriend And he's been my boyfriend during fucking life."
Through his social networks, he stressed that the world already knew about their relationship, to which the rapper, Tyler, responded in a different way. Since then, although Smith recently doubled-down on the claim, it seems to have been nothing more than a well-timed joke between good friends.
But, on a larger note, the takeaway from the situation is that Smith is no longer the rapper version of a walking beanie and neckbeard.